KB 91023/21046 JAMES BOND ASTON MARTIN DB5 | CREATOR |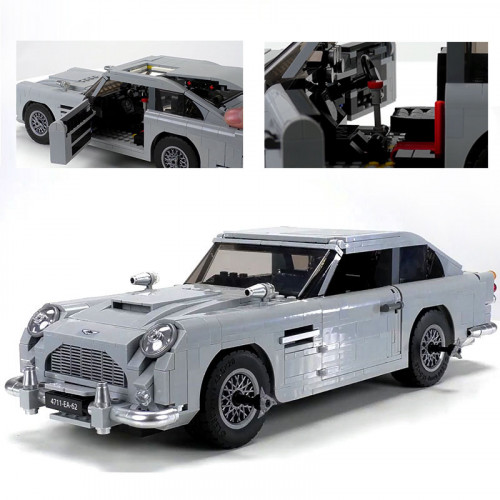 21046 JAMES BOND ASTON MARTIN DB5
CREATOR / 1450 PIECES
This 21046 James Bond Aston Martin DB5 building blocks and bricks set includes the following:
James Bond Aston Martin DB5 Review
Authentic replica of the world-famous 1964 Aston Martin DB5 sports car, featuring a classic design with drum-lacquered silver front and rear bumpers, moulded silver-coloured wire wheel rim inserts, opening boot, bonnet and doors, and a wealth of James Bond gadgetry, including a working ejector seat, revolving number plates, rear-window bulletproof screen, front wing machine guns and wheel-mounted tyre scythes.
This James Bond Aston Martin DB5 model also features opening doors and a detailed interior with a concealable radar tracker and door compartment with telephone.
Lift the bonnet to check out the straight-6 engine detailing.
Pull back the rear bumper to eject unwelcome passengers.
Revolve the number plates, raise the rear-window bulletproof screen and deploy the wheel-mounted tyre scythes.
Pull back the gearstick to reveal the front wing machine guns.
Own this collectible replica of the Aston Martin DB5, as featured in the classic James Bond Goldfinger movie.
Important Note on Shipping & Package
Packed with protective foam envelope and paper carton WITHOUT original box. Items are repacked into padded envelopes with suitable carton box for maximum protection.
We ship via trackable postal or carrier service depending on the destination which usually takes 15-20 working days.
Please allow 5-7 working days to process and sort the order after payment is confirmed.